Paul Astle started his butchery career, aged 18, working for a well known local butcher but his dream was always to own his own business.
After many years spent learning the craft, Paul and his wife, Karen, opened Real Country Butchers in 1996, and have built up a very loyal and happy customer base.
In 2018, following extensive consultation with customers, the couple have totally refitted and transformed the shop with a fresh, modern look and rebranded it - Astles of Portsmouth.
- The shop is certified as accessible for wheelchair users.
- A Chip & PIN & contactless payment facility is available and we accept most major credit, debit cards. We also now accept Apple Pay.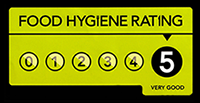 Call:
023 9266 3624

Email:
Find us:
Astles of Portsmouth
295 Copnor Road
Portsmouth
Hampshire PO3 5EG
Opening hours:
Sunday - CLOSED
Monday - CLOSED
Tuesday - 9.00 - 4.30 pm
Wednesday - 9.00 - 4.30 pm
Thursday - 9.00 - 5.00 pm
Friday - 9.00 - 5.00 pm
Saturday - 9.00 - 3.00 pm
Astles of Portsmouth is located in the heart of Copnor Road Parade, just along from College Park.